I always believe when it comes to skincare, you want to use the best products on your skin and you want to invest in a line that only uses premium ingredients.  I always tell my makeup clients – your makeup will only look as good as your skin feels so make it a top priority.  As a makeup artist, I've worked alongside some of the best skin care experts and there's always been a buzz about OROGOLD COSMETICS – since they're well known for their gold infused anti-aging products.  That's why I jumped at the chance to try out the exclusive OROGOLD 24K Cryogenic Collection.  A line doesn't get more luxurious  than when it uses real 24K gold and diamond dust, so I knew my skin was going to be in a for a real treat.
If you've been following me on Snapchat and my social media, you know how much I rave and adore the OROGOLD products. I tried out the system for a few months so I can give you the full review.  First and foremost, you know I am a sucker for beautiful packaging and the OROGOLD line doesn't disappoint. The packaging alone is luxurious, elegant and stunning. I love displaying the products on my vanity and admiring how pretty they are. I just appreciate the little things, what can I say? 🙂
In the mornings, I start off using the 24K Cryogenic Pearl Revival Elixir.  Even though my skin can sometimes be oily, my esthetician has commented that my skin is actually dehydrated and overcompensates by producing more oil.  Since I've started using this product, I've noticed my skin is almost shine free all day. The elixir also helps softens lines and has a firming effect. I love looking at the gold specks and feeling the pearl spheres dissolve when I massage this onto my face.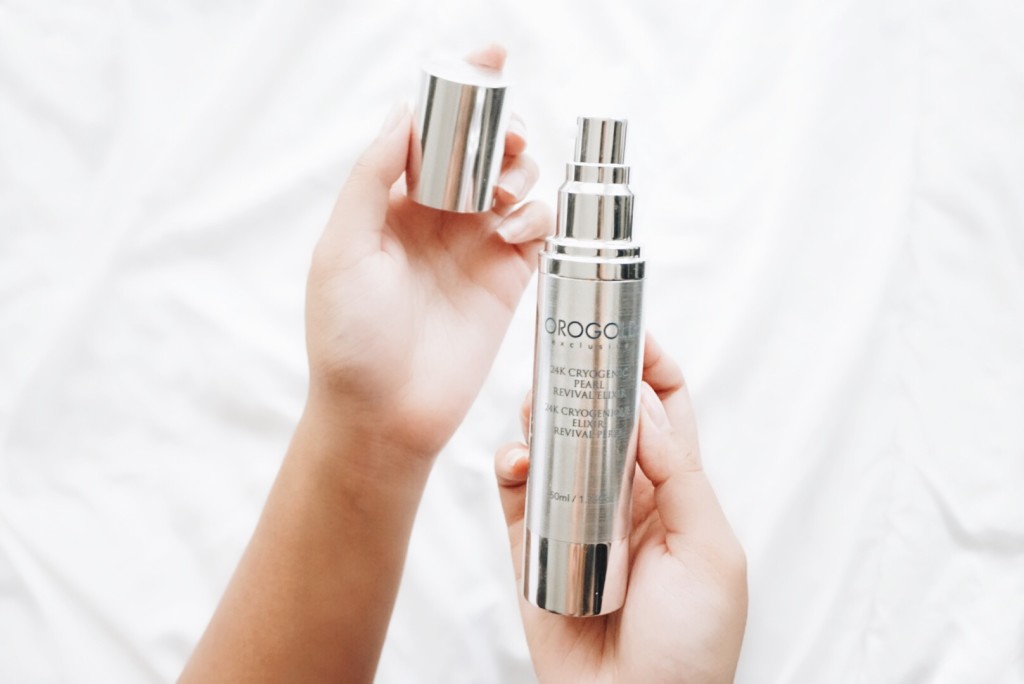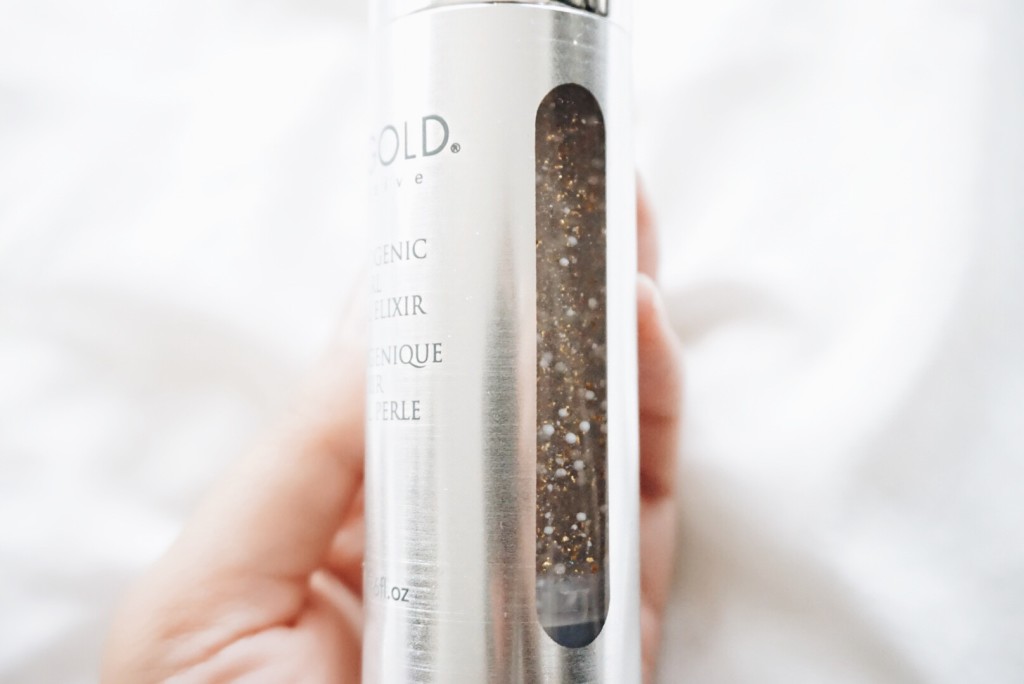 I follow up with the 24K Cryogenic Restoration Cream.  I have oily/combination skin but sometimes I do get dry patches around my chin and cheeks.  Immediately, when I apply this fast absorbing cream, I noticed how supple and bright my skin looks.  It's a great moisturizer because it doesn't feel heavy during hot summer days and my foundation applies like a dream because my skin feels so smooth every time I use this. The cream contains Alpha-Hydroxy Acids and nutrients to nourish the skin and is a great anti-aging cream because it promotes skin's elasticity too.  I also loving using this cream at night.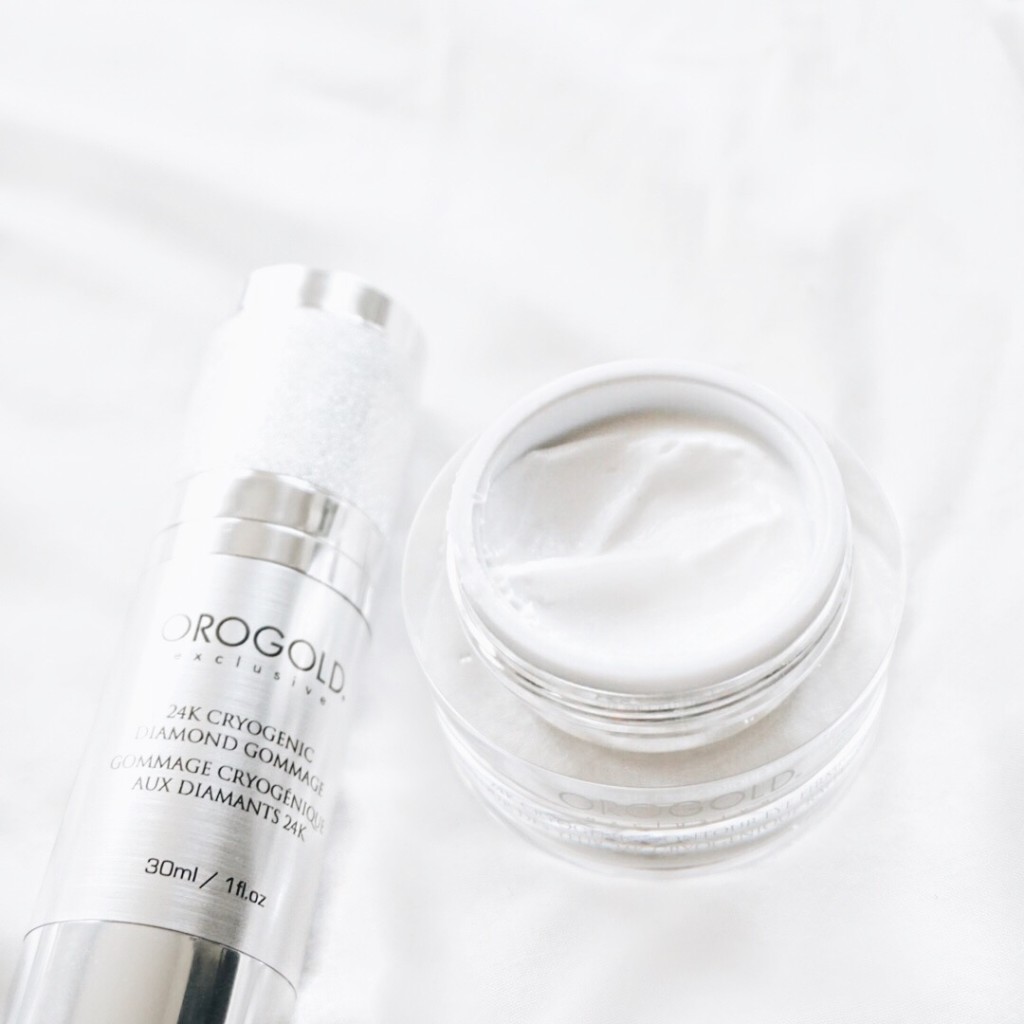 Another favorite product of mine from the line is the 24K Cryogenic Contour Eye Firming. I have sensitive eyes and am really picky with what I can put around my eye area. I loved that this felt very gentle and soothing and didn't irritate my eyes at all. It contains a blend of 24K Gold with caffeine, green tea and shea butter. After just a few days of using this eye cream, I've noticed my dark circles reduced dramatically and I have no puffiness every time I use this.  It's also super hydrating and firms up the eye area without that tight feeling like I've experienced using other anti-aging eye creams. I apply this morning and night.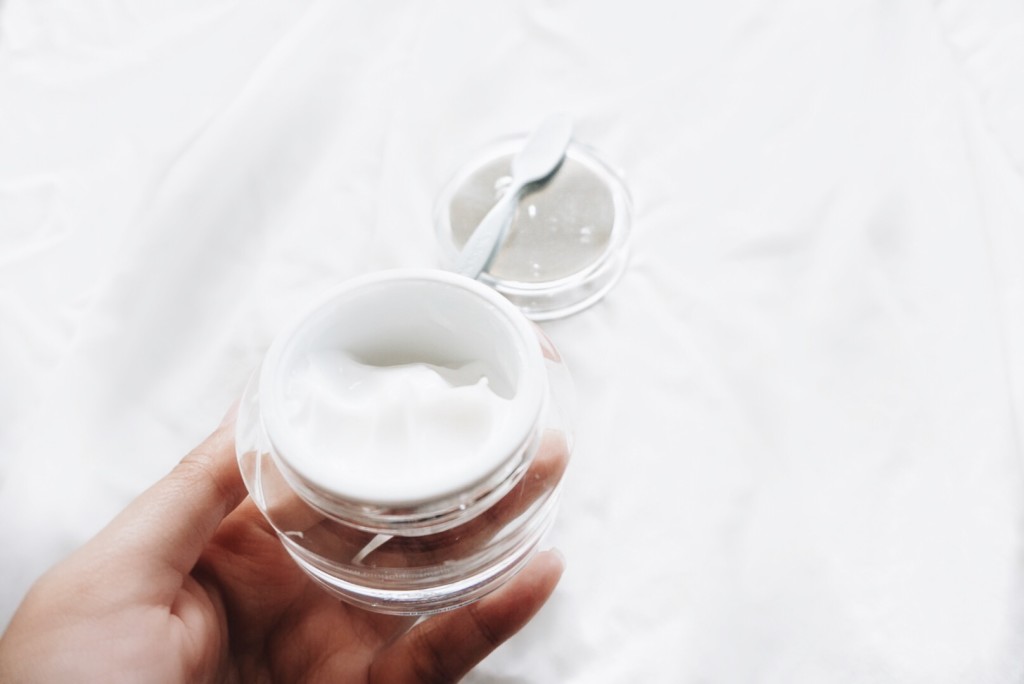 ---
The products below I use sporadically throughout the week.  One of the products from the line which I noticed has made a huge improvement in my skin is the 24K Cryogenic Diamond Gommage. This product is amazing! I've never tried a leave on exfoliator before that was this gentle and wasn't irritating.  I am a big fan of exfoliating as long as you don't over do it and I use this product about twice a week.  I use an exfoliating brush but sometimes your skin still has dead layers of skin cells and debris that manual exfoliation doesn't remove.  If you feel like your skin feels flaky or has buildup – this is the answer to that issue. I apply this to clean skin and I let the gommage absorb and I don't rinse it off. I like to use this at night so my skin looks extra bright and smooth the next morning.

Another way to pamper my skin is with their 24K Cryogenic Diamond Mask. I like to apply this cooling mask once or twice a week.  It contains 24 Karat Gold, beauty boosting vitamins and Diamond Dust. This anti-aging mask also firms and rejuvenates your skin. I love that it feels just as soothing and  luxurious as the fancy treatments and masks I've tried at other posh spas. After I use this mask, my face feels instantly refreshed, hydrated and has a beautiful glow.  I can't wait to use this during the brutal Boston winters. 🙂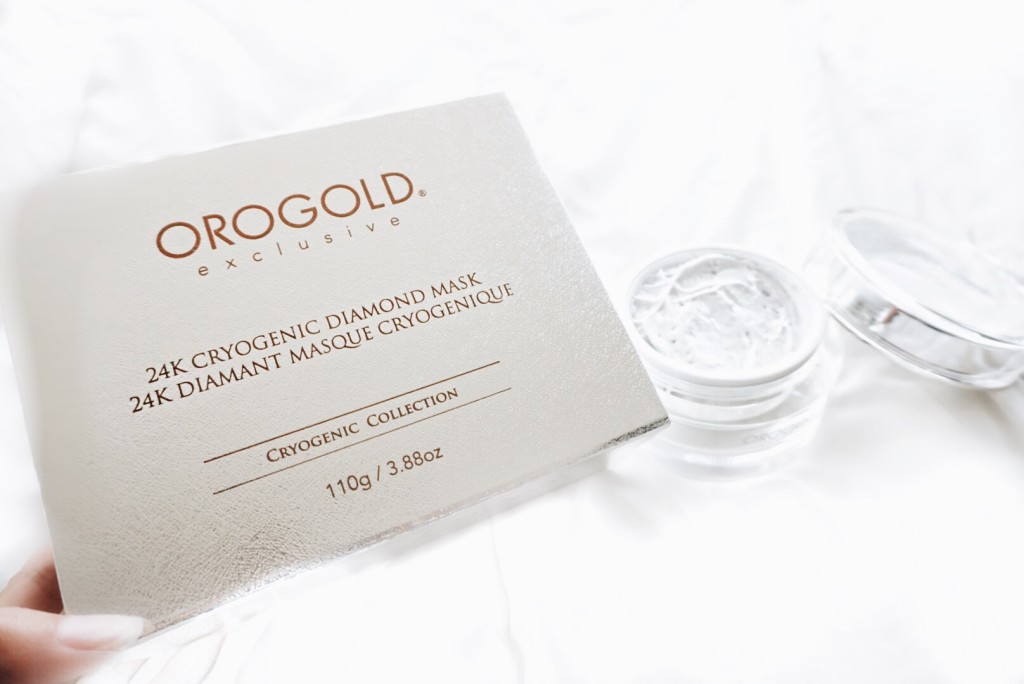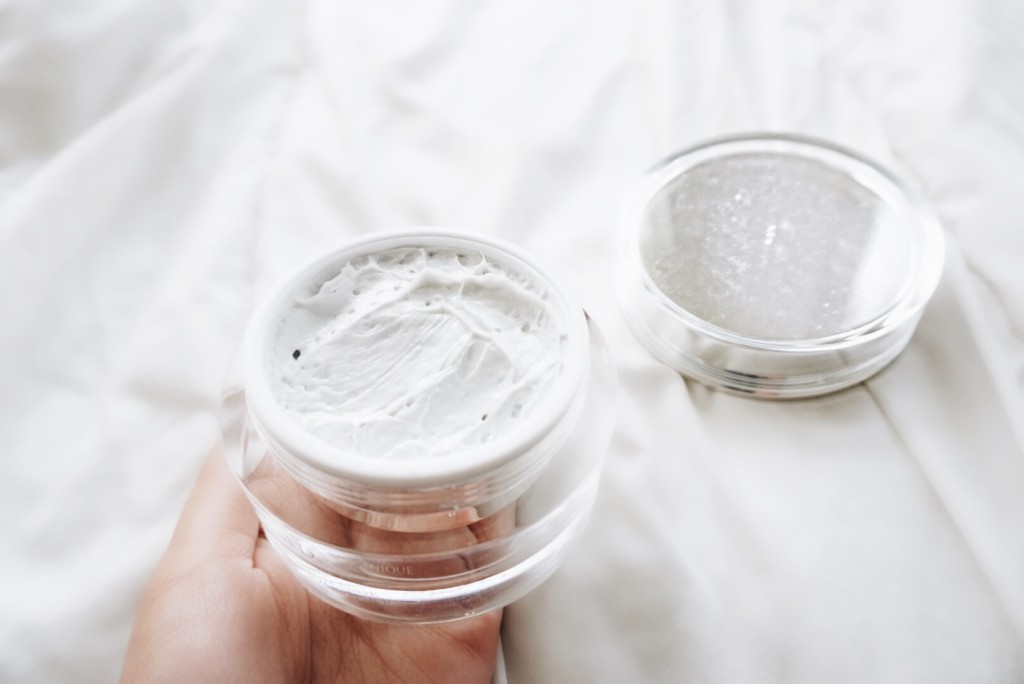 Now one of their most intriguing products from their Cryogenic line is the 24K Cryogenic Liquefying Pearl. It comes in powder form but transforms into a hydrating liquid once you massage it onto your skin.  It contains a powerful anti-oxidant mix of vitamins, minerals, green algae, seaweed and Vitamin C. I like to mix the Restoration cream with the Liquefying Pearl for that extra pampering effect. It gives an amazing glow to the skin, softens fine lines and I even notice when I get a pimple, it's almost gone the next morning.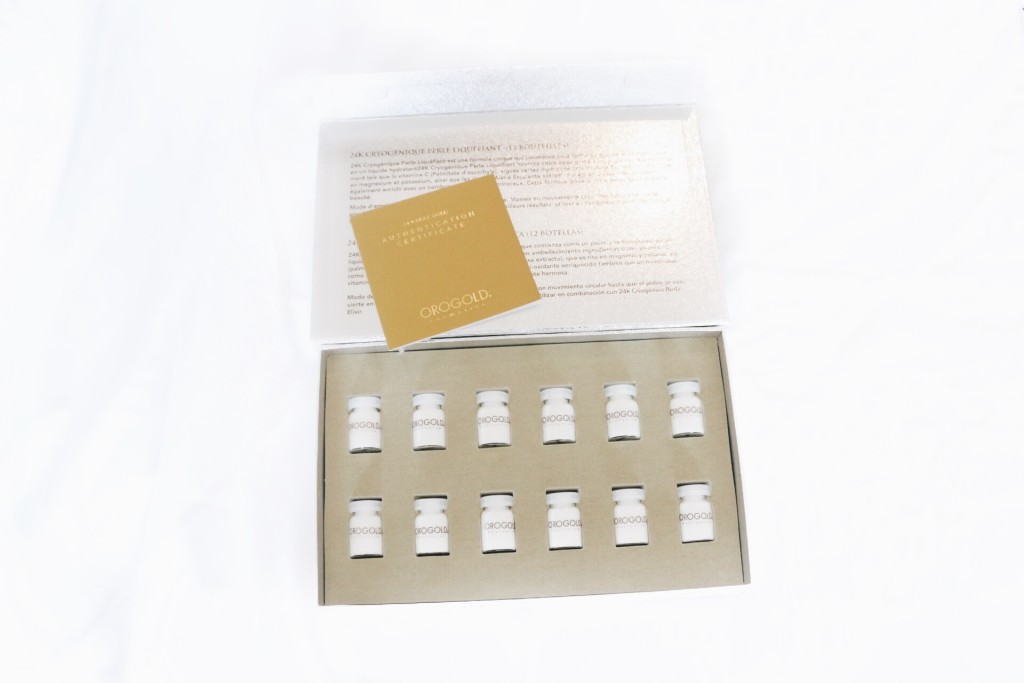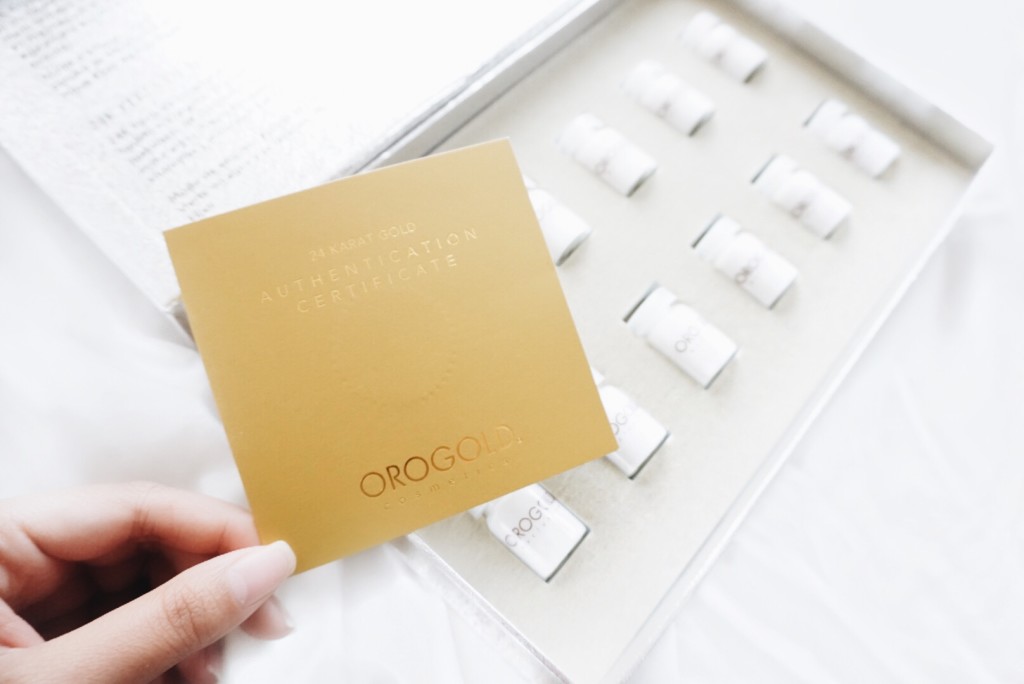 Taking care of your skin is a true every day luxury and I am so pleased with the results from using the OROGOLD 24K Cryogenic system.  Let me know if you've tried their line and I would love to hear about your own experience.   To learn more about their products – head over to OROGOLD COSMETICS.
Disclaimer: This is an honest review of my personal experiences using the above products in conjunction with Shopping Links and OROGOLD COSMETICS.